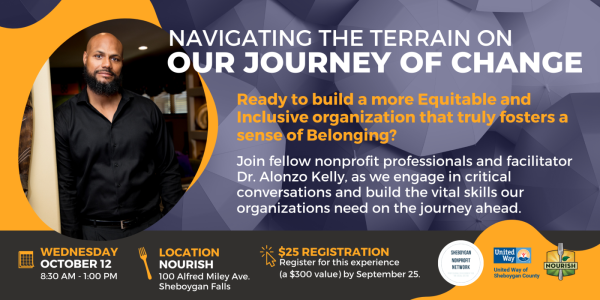 Join us for a 4-hour experience with Alonzo Kelly, focusing on the intersection of our lived and learned experiences on October 12th, 2022.
Register by September 25th.
Alonzo will provide nonprofit professionals with the information and skills necessary to restore civility to our discourse, engage in authentic inquiry, and continue to develop critical thinking skills. As we all look for ways to be better and do better in our organizations with regards to diversity, equity and inclusion, this engaging seminar is one you will not want to miss.
Buffet Style Lunch provided by Nourish
Chili Bowls with toppings (both meat and vegetarian options available)

Baked potato

Cornbread

Dessert
This event is hosted and sponsored by Sheboygan Area Nonprofit Network, United Way of Sheboygan County, and Nourish.
If you need financial assistance to attend, contact Gina at United Way of Sheboygan County at gina@uwofsc.org or 920-458-3425.
About Alonzo Kelly
A dynamic Executive Coach, Professor, 3x Best Selling Author, and Radio Host, Alonzo Kelly has gained international and global attention as a premier consultant and strategist. Alonzo is recognized as one the nation's leading experts on leadership development, strategic thinking, planning, and acting which results in individual and organizational goal achievement. He has appeared on America's Premier Experts which airs on major networks across the country including ABC, NBC, CBS, and FOX. Alonzo has served over 1,000 individuals through personal and professional development, delivered training to a plethora of Fortune 500 Companies, College and Universities, Foreign Countries (Netherlands, Belgium, Canada, Guam), nonprofit organizations, and is consistently retained to be the keynote speaker at large and small events across the country.
He holds a bachelor's in Accounting, three master's degrees (Public Administration, Human Resource & Labor Relations, Business Administration), an Honorary Doctorate Degree in Business & Entrepreneurship, and is nearing completion of a PhD in Multidisciplinary Human Services. He is also currently in the process of obtaining his Doctorate in Business Administration.
He currently serves as the National Board Representative for the Wisconsin State Board of Directors for the ACLU (American Civil Liberties Union), President of the National Board of Directors for SENG (Supporting Emotional Needs of the Gifted), the Fire and Police Commission for the City of Howard, and Board of Directors for Family Services of Brown County.
Find more at www.alonzokelly.com