September Blog: UWSC Youth Initiatives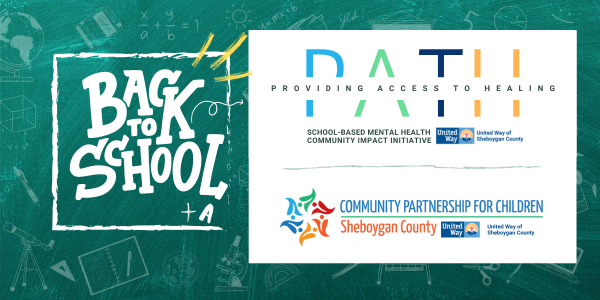 School is back in session! The back-to-school rush can be a stressful and challenging time for any family. Thankfully, our incredible social sector in Sheboygan County provides several programs to support families with young children, whether they are already in school, just starting school, or aren't quite old enough yet.
United Way of Sheboygan County's Providing Access To Healing (PATH) is a school-based mental health community impact initiative that places licensed clinicians into the school setting to increase access to mental health care for students throughout Sheboygan County by removing financial and geographical barriers.
PATH works to actively engage parents, community mental health providers, and school personnel in the lives of children and adolescents. Since the inception of the program seven years ago, more than 1,900 students have benefited from PATH with over 90 percent of them stating that they felt better about life after entering the program. Over two-thirds of these students had a reduction in anxiety and/or depression symptoms and an increase in their academics and attendance.
If you believe your child could benefit from PATH, reach out to your child's school counselor. If your child attends a school that is not partnered with PATH, reach out to Mental Health America Lakeshore or Wisconsin 211 and they will be able to help you navigate finding a therapist that best fits your family's needs. Click here to see which Sheboygan County schools are currently partnered with PATH.
If your little ones are still too young for school, the Sheboygan County Community Partnership for Children (CPC) offers several programs to help ensure your family's youngest members are meeting their developmental milestones and possess the skills they need to succeed when they start school.
Over 90 percent of a child's brain development occurs in the first five years of life. As such, identifying and addressing any possible developmental delays as early as possible is vitally important. The CPC offers several Community Developmental Screening days (register here!) throughout the year in partnership with the Plymouth and Sheboygan Area School Districts. At these free events, trained screeners work with your child to detect any possible developmental concerns or delays. When appropriate, screeners will refer the family to services that can more specifically diagnose and work to address the identified delay. If your child is over three years old, you can also connect with your school district to utilize their Child Find screenings throughout the year.
In addition to ensuring children meet their developmental milestones, the CPC strives to ensure that parents feel supported and educated. We understand that parenting can be incredibly challenging, and who better to understand those challenges than other parents? At Parent Cafés, we provide a safe, relaxed space for facilitated peer-to-peer discussions on the difficulties of parenting and effective parenting techniques. Each event starts with a free meal for your family and includes free child care while you connect with other parents.
Regardless of the age of your children, we know the back-to-school time of year is an important time for parents and families. Click here for a list of resources and other hands-on materials that can help parents and students navigate all the emotions and challenges that come with a new school year.
~ Brianna Heusterberg, Director of PATH, brianna@uwofsc.org
~ Ryan Wilinski, Community Partnership for Children Coordinator, ryan@uwofsc.org