July Blog: Hope in Action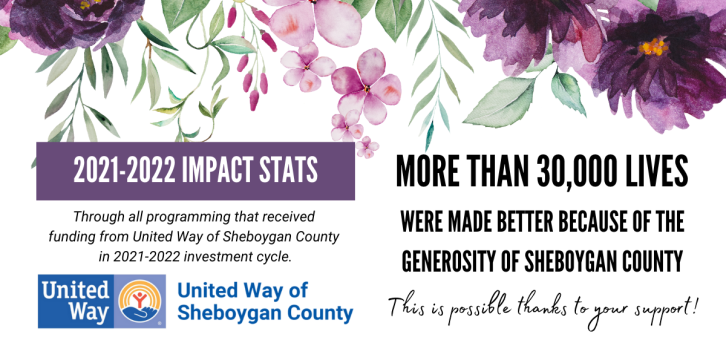 United Way plays a crucial role in our community to create collaborative and innovative approaches to solving complex social issues. Working together, we create systemic change. Generous donors, corporate partners, small businesses, foundations, and individuals contributed to our community-owned and data-driven modern United Way, raising more than $2.1 million dollars to be invested back into Sheboygan County to improve lives and community conditions!
Putting your donor dollars to work, our local United Way elevates the social sector through providing nonprofits funding, professional development opportunities and convening nonprofit networks that support collaboration, resource sharing, and volunteerism.
In the last year, we maintained and expanded partnerships that focus on the building blocks of a successful life: education, health, and financial stability. 40 programs facilitated by 24 Partner Agencies will receive funding through the Community Action Fund, led by a volunteer committee who provide oversight and support to sustain, grow, or develop programs that address critical issues in our community and create lasting change.
Continued areas of strategic focus for our United Way remain in prevention, mental health and youth development. Reflective of this is the financial investments for our 3 Community Impact Initiatives: Community Partnership for Children (a birth-to-six family initiative), Providing Access To Healing (a school-based mental health program), and the Volunteer Center of Sheboygan County (a platform for mobilizing volunteers). Additional funding is also distributed for other services such as 2-1-1 Resource Center, dollars to advance best practices within Diversity, Equity, & Inclusion (DEI), and additional financial dollars are provided for local nonprofits outside of Partner Agency funding that includes Small Grants, Emergency Reserve Grants, and 2022 Day of Caring grants.
At our recent Campaign Celebration event, we announced the upcoming 2022-2023 Campaign theme: Hope in Action. Families in our community continue to struggle with breaking the cycles of poverty, domestic abuse, and generational trauma. Families continue to wonder how they will pay their bills, put food on the table, afford high gas prices, find stable and affordable housing, access mental health services to improve their life and achieve their human potential. It is my honor and personal privilege to be a part of the United Way family where we not only hold hope and space for our neighbors in need but incredibly turn hope into action.
Thank you to our staff, board of directors, and all UWSC volunteers for nurturing hope in action year-round. Special thanks to Mike and Pam Langan who will continue in their roles as Campaign Co-Chairs for the 2022-23 Campaign. My heart is full.
Join me in celebrating last year's accomplishments while looking ahead to the continued service of hope in action we create together.
Click here for the year-end news release.
-Kate Baer, United Way of Sheboygan County Executive Director
Year End News Release
United Way of Sheboygan County (UWSC) closes their 2021-2022 fiscal year with much to celebrate, including raising and investing over $2.1 million dollars into local programs, services, and initiatives for the 2022-2023 investment cycle.
"United Way does a tremendous job in keeping a pulse on the needs of our community and this year was no different," said Mike Langan, UWSC Campaign Co-Chair.
Read More